When One of the Big Five Tech Giants Needs Your Help
Graduate of Touro Industrial-Organizational Psychology Program Helps Amazon
December 02, 2021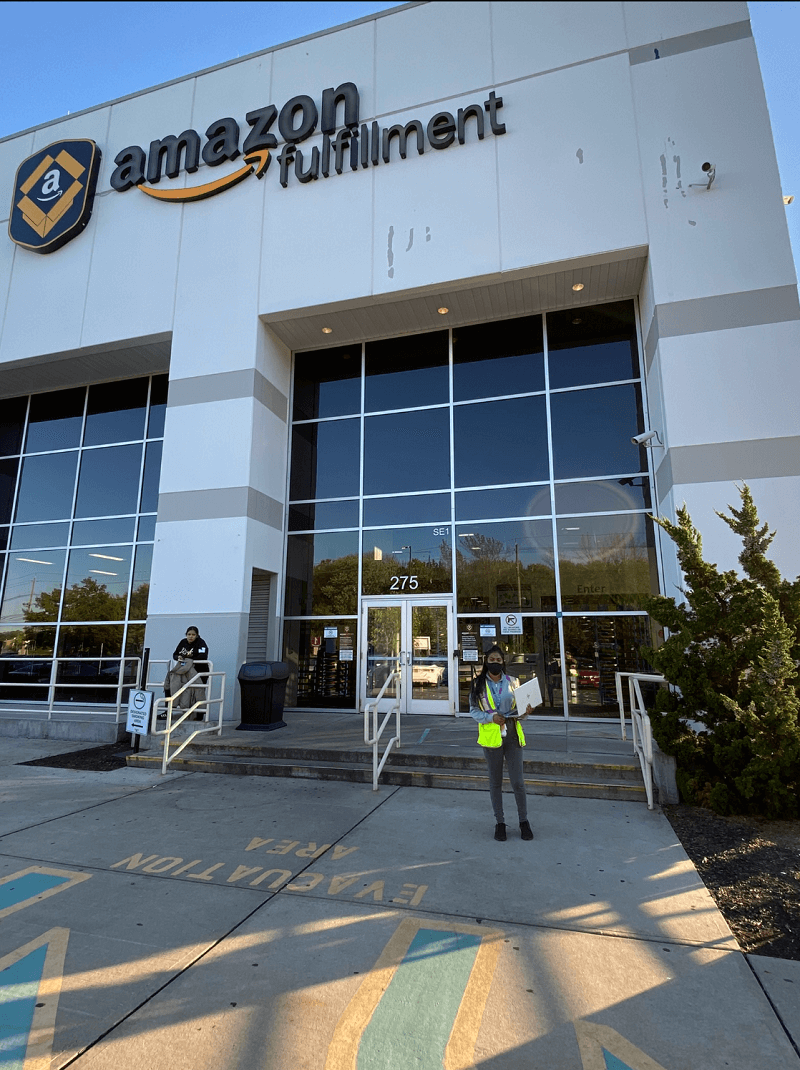 Raveena Mohabir by the Amazon fulfillment center where she works.
When she enrolled in Touro's School of Health Sciences Industrial-Organizational (IO) Psychology program, Raveena Mohabir figured she had a bright future ahead of her, but she didn't know it would include an international internship with a famous consulting firm and working for one of the world's best-known companies.
Mohabir, a graduate of Hunter College, wanted to pursue a graduate degree that combined her interest in psychology with her natural business acumen. She discovered Touro's IO program and, after the initial interview, decided it was for her. "My interviewer told me on the spot that they would love to have me in the program, and it just felt natural," said Mohabir. For the next two years, Mohabir and her fellow students learned the ins and outs of the industrial-organizational psychology world, from the tricky soft science of motivation to the hard, technical data that IO psychologists use to map out the larger issues companies face.
"Our program stressed a lot of things," explained Mohabir. "We learned about coaching, diversity and consulting. We had a statistical psychology class along with a boot camp for using Excel. I didn't realize how useful it would all be."
Mohabir also was able to flex her Spanish-language muscles when she received a scholarship from Touro to visit Spain as part of a two-week internship with the Beacon Consulting Group. "I built a lot of connections and learned how to live and work in a different culture," said Mohabir.
While graduating during a pandemic had its share of challenges, Mohabir quickly found work helping a family friend establish and staff a psychology practice. The skills she picked up in the IO program allowed her to quickly find the right people for the needed positions.
"In our program, we did coaching and group learning and focused on adapting to multiple situations," said Mohabir. "If I was put in charge of hiring an administrative assistant, I have enough knowledge to pull out the information and recreate the basic job description and then find the best person."
In February, Mohabir received a call from Amazon where she had an interview months before. The Everything Store wanted her help in managing a distribution center in Kentucky and offered Mohabir a relocation package. Mohabir spent six months in human resources managing 4000 employees in a sprawling distribution center. "One of my main responsibilities was looking at our attrition rate and figuring out how to retain our employees," said Mohabir. "We ended up redoing part of our hiring process to ensure that everyone begins working for Amazon on the same page."
Six months later, pleased with her work, Amazon asked if Mohabir wanted to return to the Tristate area to help launch a new facility in New Jersey from the ground up.
She still keeps in touch with her Touro professors.
"My professors were really helpful," said Mohabir. "Being able to talk to them all the time and reach out to them—especially when I had a big interview coming up—that was really important."
We posed a few questions to Raveena about her success in the IO world. In the back-and-forth below, she talks about the best advice she's ever received, the essential skills needed to succeed in the business world, and the best moments from her time at Touro.
What's the best piece of career advice you've ever received?
The best piece of advice I ever received was to not let my doubts get in the way of my potential. Don't ever tell yourself you can't do something—whether it's a position or a project or a promotion. Let someone else tell you if you're not qualified, don't ever just close the door for yourself.
Can you describe the most essential skill someone must have to succeed in the IO field?
Communication. Knowing how to promote yourself and network goes a long way. It could be email etiquette or simply talking to people, saying the right thing can get you on an important project or impress others who will want you on their team.
What was the best class you took at Touro and how did it affect you?
Research design – It really gave me a new insight on how to look at big companies and see why they make the decisions they do. You can also use this information to get a different perspective of companies just by walking through their front doors and determining if their culture is right for you.
What is the best part of working at Amazon?
The best part about working at Amazon is meeting so many diverse teams and departments. You can start at Amazon doing one thing and end up working somewhere else in the company, doing something completely different. The career growth potential is amazing as well. You can start working the line just like an average associate then a few years later end up as the senior manager of the department.
What's your greatest career accomplishment and what are your hopes for the future?
My greatest career accomplishment is getting noticed by other teams within Amazon that are not HR and my work being done so well, I get offers to join other teams like operations. I hope, however, to do something more in the realm of project management or consulting in the future.