Making the World More Accessible, One Playground at a Time
School of Health Sciences Professor Dr. Reema Thakkar-Sinha Helps a School Community Build a Playground for Everyone
June 05, 2023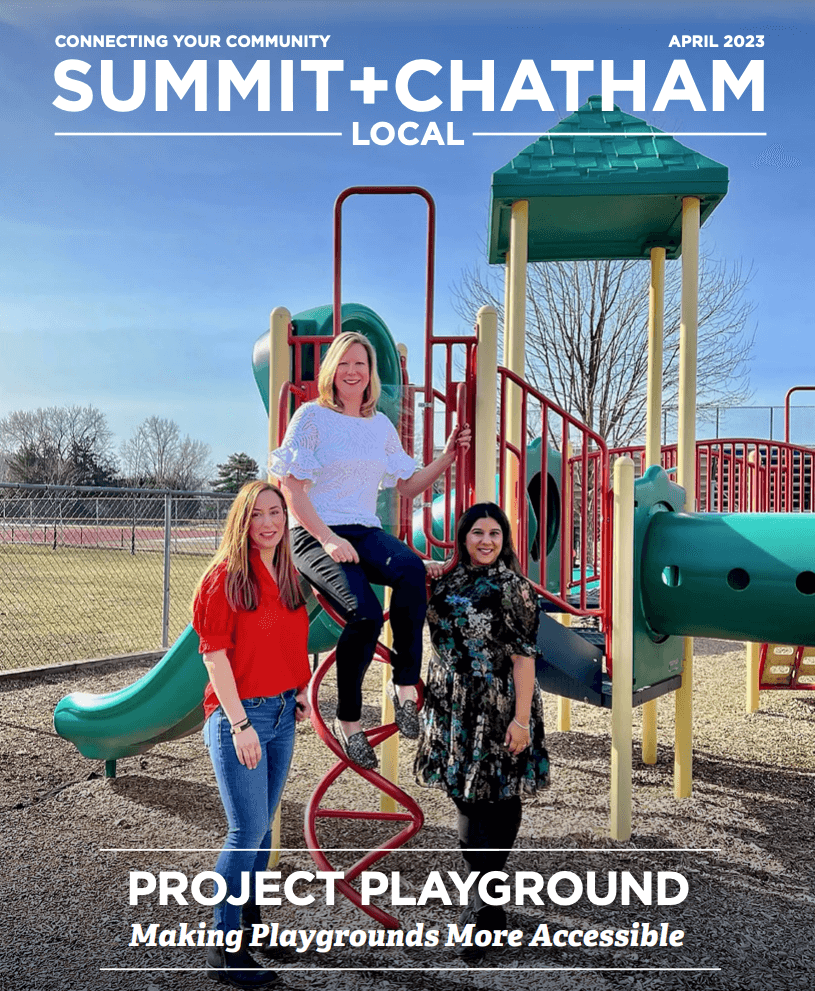 SHS Professor Dr. Reema Thakkar (far right) and fellow New Jersey residents Erica Witte and Laura Skidmore created Project Playground to help build accessible playgrounds in their community. The three were profiled by Summit+Chatham magazine.
As director of clinical education at Touro University's School of Health Sciences (SHS) Doctor of Physical Therapy (DPT) program, Reema Thakkar, PT, DPT, is responsible for placing DPT students in clinics and hospitals around the county to ensure that students learn the clinical and professional aspects of physical therapy during their clinical experiences. And as to how physical therapists should conduct themselves in their personal lives, Dr. Thakkar—a member of Project Playground, an organization dedicated to building accessible playgrounds in Westfield, New Jersey—leads by example.
Dr. Thakkar traces the founding of the organization to conversations with fellow parents at PTA meetings at her children's school in Westfield earlier this year. "A fellow parent, whose child has mobility challenges, was the catalyst for the project," explained Dr. Thakkar. "We realized that the school had students with special needs, but there isn't a lot of accessible equipment… Independence, as you traverse your school environment, is one of the building blocks of development, and I watch my own two children grow and thrive in their school playgrounds."
Together with her fellow parents, Dr. Thakkar launched Project Playground to raise funds and plan for an accessible playground. "I'm a physical therapist; another parent is a consultant; another is a lawyer," she said. "We have all these amazing people in the community who have donated their time to make sure that our community is accessible to all the children that need it."
The organization officially began in September 2022. Within a span of a few months, the group managed to raise over $100,000 from local grants and donations.
Dr. Thakkar said that her physical therapy knowledge has also helped her aid in the plan of the future playground. She cited an example of how a child using a walker would be unable to use a swing set if the accessible pathway ended too early. A way of seeing these anomalies is a hallmark of a successful physical therapist, stated Dr. Thakkar. "We as a profession are really great at assessing the physicality of situations," she said. "Our minds go to things like logistics: How do we get from A to B? We understand the innate logistic scenarios and what could go wrong since we look so closely at function."
"Project Playground has been a great way to give back to the community and be an advocate," continued Dr. Thakkar. "It's not a huge project, but a playground can really make a difference."
Caring and being a part of their community is something that Dr. Thakkar said she and her fellow faculty members want to imbue in their students.
"At Touro, we want to show our students how they can go above and beyond in their own communities," she said.
The playground will be completed in time for the next academic year.