SHS DPT Alum Lands Prestigious Orthopedic Residency
Physical Therapist Tyler Moldoff Spends a Year in NY's Hospital for Special Surgery
July 27, 2023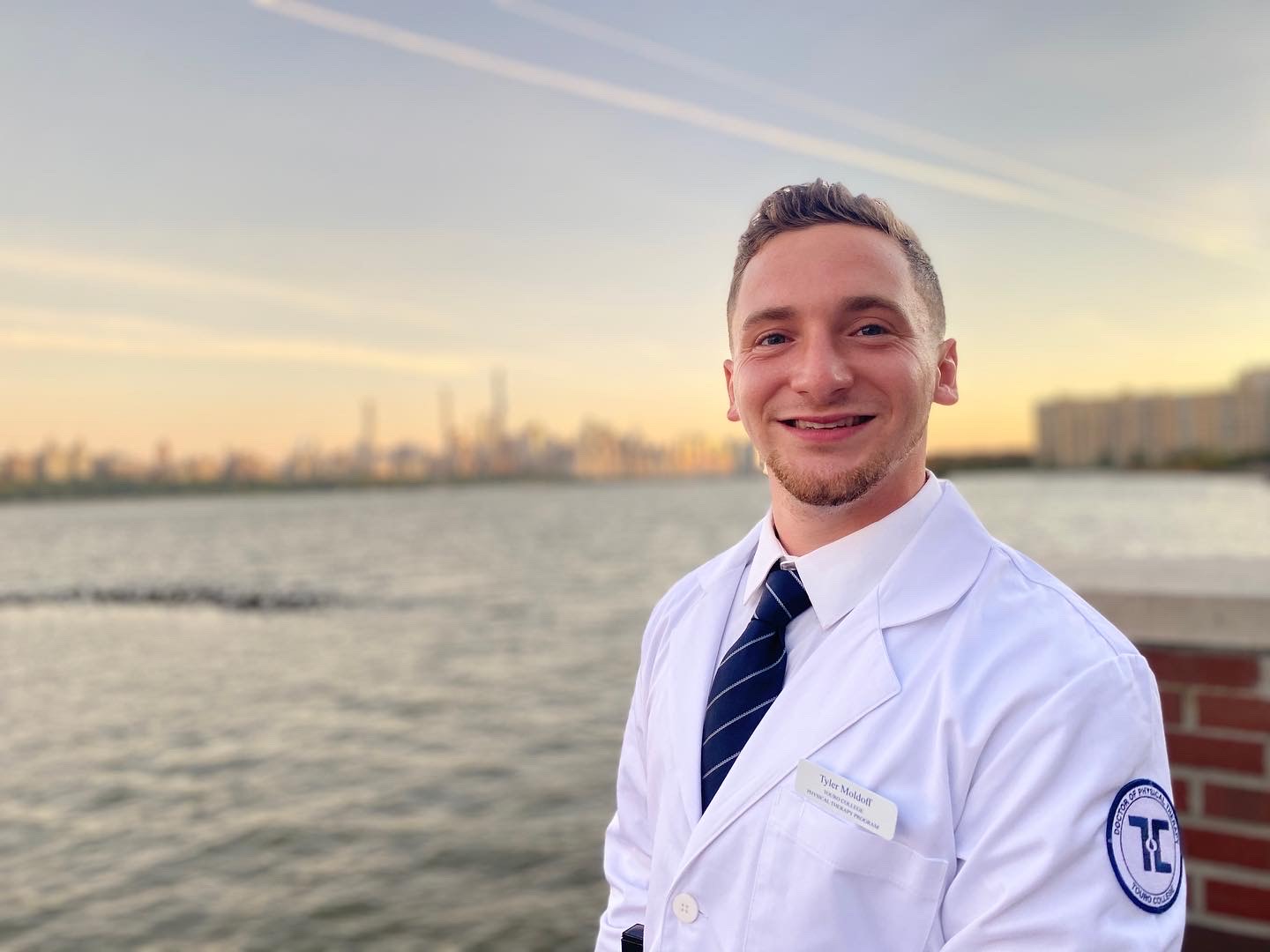 SHS DPT alumn Tyler Moldoff is completing an orthopedic residency with New York's Hospital for Special Surgery.
A graduate of Touro's School of Health Sciences (SHS) Doctor of Physical Therapy (DPT) program is completing an orthopedic residency with New York's esteemed Hospital for Special Surgery. "I didn't think I would be accepted," said physical therapist Tyler Moldoff. "But our DPT program has a good relationship with the hospital, and they encouraged me to apply."
As a resident, Moldoff works with patients from the hospital alongside medical practitioners in what is largely considered to be one of the best orthopedic hospitals in the country. The residency is highly sought after and is usually only open to therapists who have practiced for several years. "There's been a lot of hands-on training and I've been able to observe many surgeries," said Moldoff, who is also assigned a mentor from the staff.
Moldoff's interest in physical therapy began while he was having some minor struggles in college. He turned to wellness. "I researched and self-experimented with nutrition and mindfulness," recalled Moldoff. "It formed my passion for a holistic approach to health. I looked into what profession would allow me to work one-on-one with people and help them, not only with their body or injury, but their way of thinking. Physical therapy was a natural fit. It enables me to not only address those issues, but optimize people's lives through movement, wellness, and nutrition."
After graduating from Rutgers University in 2019, Moldoff joined Touro's School of Health Sciences Doctor of Physical Therapy program. "The midtown location was unbeatable," he laughed. "But the real draw was the wealth of experts on staff. I immediately knew that the faculty and professors were accomplished and affiliated with hospitals and clinics everywhere."
"They really get you ready for the physical therapy profession," elaborated Moldoff on his experience in the DPT program. "But there was also a lot of enjoyable networking events, and we had ample opportunities to have fun and be social with our classmates."
Touro's position as a Jewish university also appealed to him. "I appreciated not having classes on Shabbat," said Moldoff who is Jewish. "That gave us a time to rest and study together."
Like all students, his studies were impacted by the COVID-19 pandemic; though he clarified that his studies were impacted but not interrupted.
"Touro did an excellent job transitioning to hybrid and Zoom models," said Moldoff. "The faculty did a great job and worked really hard to ensure we didn't fall behind." Even the school's clinical affiliations continued, Moldoff said, "Dr. Reema Thakkar [The DPT program's Director of Clinical Education] was able to get us in despite all odds."
The way that the school handled the pandemic was emblematic of the school's approach to its students, he said. "Touro works for its students and wants them to succeed."
During his last year, he was encouraged to apply to the Hospital for Special Surgery. The residency fast-tracks therapists to qualify to take the orthopedic specialist certification exam without having to put in the 2000 hours of practice treating patients with orthopedic diagnoses. Moldoff said his reason for pursuing the residency had less to do with orthopedics and more to do with becoming an excellent physical therapist.
"I always wanted to put in the work to truly feel that I know what I'm doing," reflected Moldoff. "I want to know enough that I can dive deep into the uncommon cases of people who haven't been helped by traditional physical therapy. I want to develop my clinical reasoning so I can essentially treat anyone who walks in my door. This advanced training is preparing me to have advanced pattern recognition, so I won't get ruffled if someone walks in and the typical treatment doesn't work."
Six months into his residency, Moldoff said "It's a dream." He noted that he isn't the only Touro graduate in the program and two other residents are Touro alumni, though both have been practicing as physical therapists for several years.
"The number one hospital for orthopedics has taken a liking to our alumni."