Speech-Language/Pathology Students Present at Voice Symposium in Memory of Former Mentor
Alyssa Decker, SHS '16 and Laurie Giamella, '16 delivered their team's presentation on "Body Pain in Professional Voice Users: Voice Complaints and Effect on Work" at the Philadelphia conference.
June 13, 2016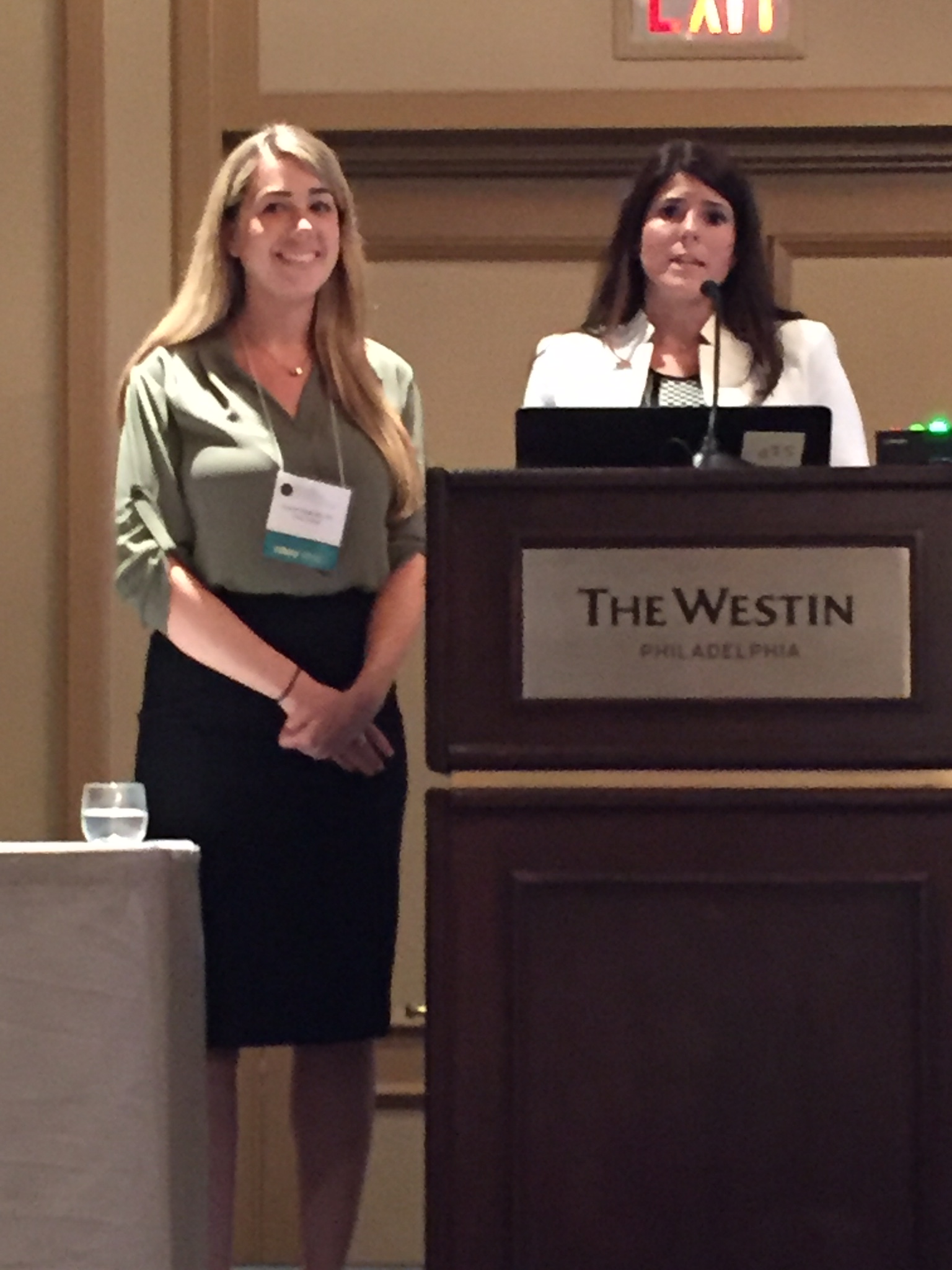 Laurie Giamella, '16 (left), and Alyssa Decker, SHS '16, M.S. (right) present at the 45th Annual Voice Foundation Symposium in Philadelphia.
Their research study, titled "Body Pain in Professional Voice Users: Voice Complaints and Effect on Work," was co-authored by Alyssa Decker, M.S., Tamar Benzaquen, B.A., Yael Almani, B.A., Lisa Ricottone, B.A., Adina Burstein, B.A., Laurie Giamella, B.A., and Gisele Oliveira, Ph.D. In their research, the authors identified, categorized, and compared body pains among different professional voice users throughout the United States.
"We found that pain is a commonly reported symptom among professional voice users; with singers reporting the highest number of body pain while speech-language pathologists reporting the lowest. Having a sore throat was the most frequently reported body pain," said the presenters. The authors also found that specific voice training may have a positive impact in managing the body pain in trained professional voice users.
Attended by more than 400 professionals and students in the voice care field (including surgeons, scientists, speech-language pathologists, voice teachers, performing artists and students), the CME- and CEU-accredited five-day meeting featured poster/paper presentations and workshops informing the community about advances being made in voice science, care and training.
The students had worked closely on this research with former professor Dr. Gisele Oliveira. An active participant in the Voice Symposium since 2003, she, sadly, passed away on March 31, 2016. "Dr. Oliveira's passion for research, the field of voice, and to her students is something that will always be remembered. Her smile certainly was her trademark and her students were her inspiration. Her memory will continue to live forever in the hearts of those she touched," said Alyssa.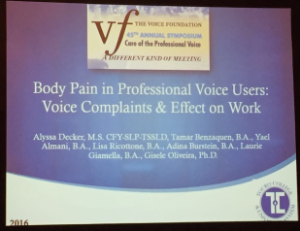 Presenting at the Voice Foundation was a once-in-a-lifetime opportunity," said Laurie. "We had the wonderful opportunity to learn from the leading researchers in the field of voice and hear their latest findings, and had the privilege to meet the legendary Dr. Mara Behlau, who guided Dr. Gisele Oliveira's passion and research in speech pathology. It was an honor to represent our school."
At the Foundation, the Gisele Oliveira Award (created by Dr. Gaetano Fava, her husband, in her honor and in "recognition of her deep love and dedication to her SLP students") was presented to the best master's level Speech-Language Pathology student presentation.
The authors are in the process of submitting their research paper to the Journal of Voice for potential publication.