Keeping a PT Practice Thriving During a Pandemic
Coronavirus Prompted School of Health Sciences Alum Josh Park to Pivot His Business Model
February 02, 2022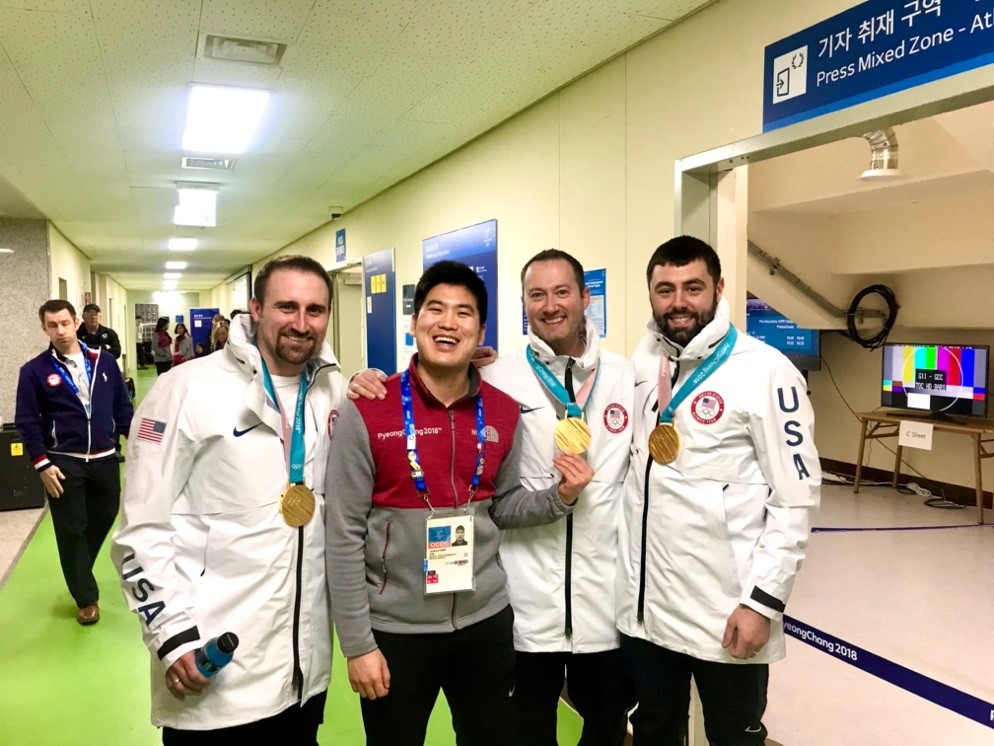 School of Health Sciences DPT alum Josh Park is pictured second from the left at the Pyeong Chang 2018 Olympic Winter Games in South Korea.
We recently spoke with Josh Park, a '16 graduate of the School of Health Sciences Doctor of Physical Therapy(DPT) program, about his passion for physical therapy and how lessons learned at Touro helped prepare him to adapt personally and professionally to the unforeseen Covid-19 crisis.
Why did you choose a career in physical therapy?
Suffering from chronic back pain for many years gave me a different outlook on life than someone who lives a life without pain. Being in constant agony with very few options for relief led me to become depressed and addicted to narcotics prescribed to me for pain relief. I came to the realization that both my body and mind were trapped in this endless cycle, and I needed to find a better way to help myself. That is where my personal mission of finding the root cause of my pain began and when I found myself being drawn to the physical therapy (PT) field. I began to take great interest in studying modern and alternative medicine, and I was finally able to begin finding answers for my issues. By bringing balance to the body, mind, and spirit, just as I did with myself, I came to the realization that I can help other people establish long-lasting and healthy lifestyles.
Can you share your career path since graduating from the School of Health Sciences (SHS) at Touro College?
After graduating with my DPT degree, I wanted to expand my PT knowledge base further, so I started working with SHS Professor Chad Woodard at Symbio Physiotherapy. The company specializes in musculoskeletal PT and while there, I learned an immense amount of information through working with athletes and dancers.
Additionally, I had the honor of serving as a Medical Director for the International Olympic Committee during the Pyeong Chang 2018 Olympic Winter Games in South Korea. During the multi-sport event, I was appointed as an International Wheelchair Curling Classifier through the World Curling Federation (WCF). I'm very proud to say that I'm the only person in the United States with an International Wheelchair Curling Classifier designation! As there is a specific approach to classification for curling, which entails a medical examination, I worked closely with competitors to determine if they were eligible to participate in this category.
While this was an exciting time in my life, I was still uncertain of my vision or purpose in life and felt like I couldn't take the next steps on my career path without first discovering that. This search for purpose led me to Asia, where I spent a year exploring with no clear plan. I reached out to locals in the area to help them to improve their lives using my PT knowledge base and offered to lead vital group training sessions. The experiences I had there were indescribable and so fulfilling that I was finally able to figure out what I wanted to do in my career- help people. In 2019, I came back to New York with the goal of building a healthy community and opened MOCEAN Integrative Physical Therapy & Wellness, where we focus on whole-body care that restores our patients' lives from the inside out.
Can you tell us a bit about how you came to open MOCEAN Integrative Physical Therapy & Wellness in New York City and your company's mission?
I felt that opening MOCEAN was imperative to provide a place where we take the necessary time to consider the whole body to fully understand why patients are experiencing certain symptoms. I wanted to create a positive environment where we actually listen to our patient's past experiences to make educated decisions about how we can assist them now and in the future.
At my practice, we offer a more holistic approach to care through the use of cutting-edge technology such as the Exbody, a medical-grade assessment machine that gives us visual, objective data on patient's posture, gait, center of gravity, and range of motion; the Bio-Electrical Impedance Analysis, a research-grade body composition device that gives us an in-depth picture of what's going on inside the body; and the emWave Pro, a scientifically validated heart-rate monitoring device that measures heart-rate variability and a physiologic state known as coherence. This allows us to visually graph and quantify stress levels, emotional state, and mental well-being.
We look at the overall body including muscular, organ, circulatory, emotion, articular joint, and nervous systems. When these six subsystems work in harmony, long-lasting health can be achieved. MOCEAN is built on the principle "love your neighbor as yourself" and passionately impacts the individuals we treat, the community we serve, and the world we live in. Although we're currently a small business, we hope to become a company that creates a ripple effect far beyond its size. Our overall vision is to improve the community through donating half of our net profits to charitable organizations committed to helping the world become a better place.
Has the coronavirus pandemic affected your business?
Three months after opening, we sadly had to close our doors due to the pandemic. While our clinic closed temporarily, the need for our services increased. Like many other businesses struggling to stay afloat during the pandemic, we had to find ways to still help the community we serve while remaining safe. This passion for giving back to those in need drove me to create a donation-based virtual group workout. This remote workout enabled our patients to keep up with their physical health and get some much-needed social interaction, albeit virtually at the time.
Fast forward three months and MOCEAN reopened its door on June 15, 2020. While the previous months were filled with fear surrounding if I could sustain a business, we surprisingly grew exponentially. We reached 75 percent max capacity without the use of any marketing or promotional tools. Our success was simply because of the strong recommendations coming from our amazing patients. We recently expanded into a bigger space and are now able to handle the influx of patients in need of our assistance.
What prompted you to open your own business? What advice would you give to someone else considering becoming an entrepreneur?
I started MOCEAN because I need to bridge the current gap between patients and our medical system and provide genuine care that holistically approaches the human body for enhanced treatment. Conventional medicine focuses on pharmaceuticals and provides a clear and effective solution when treating cases of trauma infections and acute pain. On the other hand, Complementary Medicine, often referred to as Alternative Medicine, looks at the human body, mind, and spirit as the primary path to lasting health.
There's an enormous gap between the two types of medicine and both lack treating the body as an integrated whole. To bridge this gap, I created the MOCEAN Integrated System. We look at the human body through a holistic lens while applying treatment methods supported by clinical and scientific evidence to provide our patients with high-quality services.
If I could give any advice to someone interested in entrepreneurship, it would be to not make money or comfort your end goals. Rather, zero in on finding your vision, one that you wish to cast out to the world, and then combine that with what you're passionate about. Once you decide on your vision, I would advise you to operate your business based on your set direction. Within the last almost two years since I opened MOCEAN, there have been many obstacles that I had to overcome, and it was not easy. I wanted to give up many times and would have if I didn't have a long-term vision in place. Prepare yourself mentally as many hardships will come in the beginning, and you may even have to work ninety-hour weeks without getting paid a dollar to get your business up and running.
What skills did you learn in the SHS classroom that have proven key to your continued professional success?
The SHS DPT classroom taught me vital skills including learning how to think out of the box, which allowed me to take a more creative approach to everything. Having the opportunity to learn from professors with various backgrounds and many years of experience across the PT sector provided me with different perspectives on situations I will encounter along my career path and helped ensure I am prepared. In addition, the practical exams we completed using simulation-based activities with patient actors enabled me to pinpoint areas of care that I needed some assistance with as well as get crucial on-the-ground training necessary in my current role.