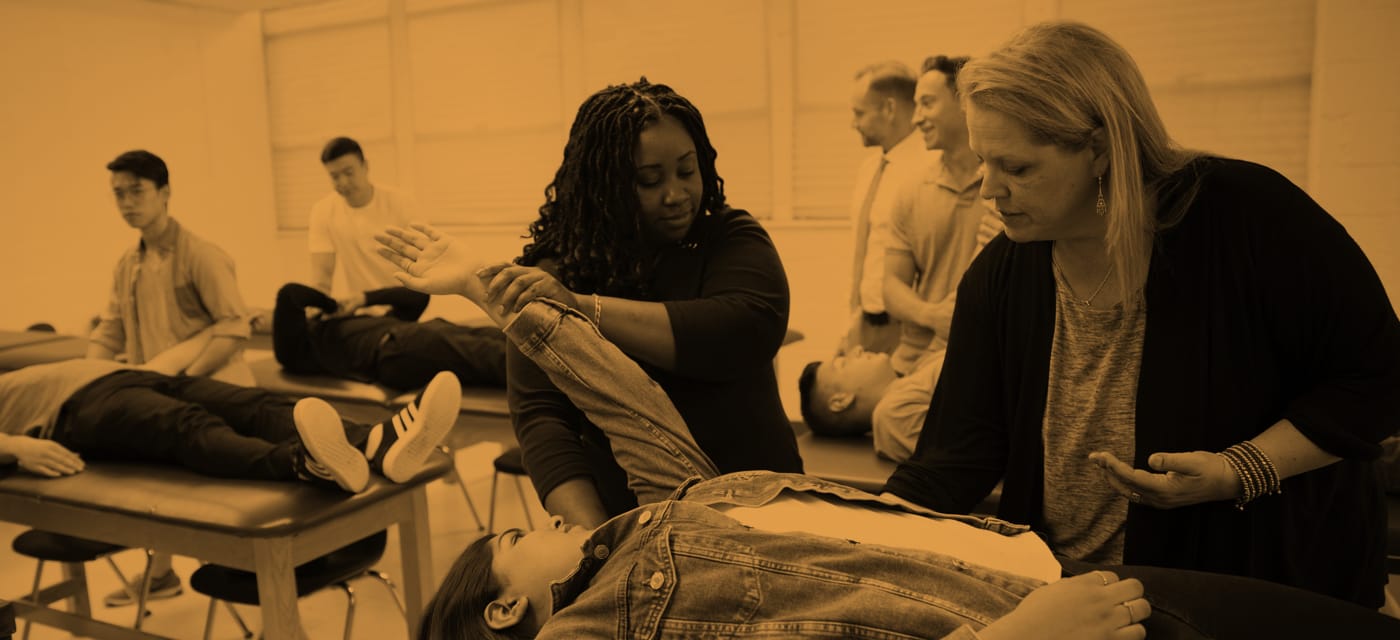 Doctor of Physical Therapy
The DPT Program That Prepares You for Practice
In our Doctor of Physical Therapy (DPT) program, we train physical therapists who are as compassionate as they are capable. With a robust clinical education, our DPT students specialize in movement and movement dysfunction, and prepare for licensure and practice.
DR. JILL HORBACEWICZ, PROGRAM DIRECTOR: A student with a doctor of physical therapy degree has the world at their feet. A great physical therapist is a combination of so many things. Certainly, they need the requisite academic knowledge, which we provide here. But you have to be a special type of person. One of Touro's missions is really to make the world a better place. And we really are passionate about that at Touro College.
DANIELLE INSARDI: Touro is a small school. It's a small PT program. And the teachers that you interact with really care about you. And they really care about your success. So that was something that I was really looking for. So I knew that it was the right fit for me.
STEVE VOUYIOUKLIS: Touro was the right choice for me because it gives me the individual attention from the professors that I was looking for. I didn't want to be in a classroom of 60, 70, 80 people. I wanted to have the ability to knock on my professors' door and sit down and have a conversation with them and them actually knowing my name.
SASHA JEFFERSON: It's not competitive. Everyone's out to help each other. And that's what our profession is. Our profession is helping each other. So it's great when you can come into an environment and the people are genuinely like that.
STEVE VOUYIOUKLIS: Three years of intense studying with a small group of individuals-- I'd say I've gained friends that are going to stick around for a very long time
DR. HORBACEWICZ: Our program offers the most expert faculty that will prepare these students to be expert clinicians
YUVAL YAARI: We have different professors who have different specialties and strengths. So we have one professor who might be strong in cardiopulmonology, some who might be stronger in neuro. Some are more strong within the psychological aspect of treatment. Some are more orthopedic based.
STEVE VOUYIOUKLIS: They'll discuss patients that they're currently treating. And they'll relate that to what we're learning in class. So that way, you're not just reading something on paper. You're getting something tangible.
YUVAL YAARI: Professors are always there. If you have a question, if you want to know more, if you need some sort of a different perspective how to look in things, there's always going to be a professor who's going to be more than willing to help you and give you what you need.
ASHLEY HOUCK: They start off with the foundational courses, anatomy and physiology, kinesiology. But the nice thing is once you've honed in on your skills there, you start learning about the neurological rehabilitation, cardiopulmonary rehab, wound care, prosthetics, and orthotics. So they have you focus on different areas that exist.
DANIELLE INSARDI: My research group-- we're actually looking at the influence of music on running. We're the first class to start this project. So it's nice and interesting because we kind of have a lot of say into how the research project is actually going to go.
We could use that and apply it to populations like cardiopulmonary patients, people that are having a little bit more of a difficulty with exercise, to try to get them motivated.
ASHLEY HOUCK: Your clinical experiences are vital to getting to be that full, well-rounded practitioner.
SASHA JEFFERSON: One of the great things about the curriculum here at Touro College is that it's very clinically based. Everything we do, they relate it back to the clinic.
YUVAL YAARI: They're really accommodating in a sense of affiliation. They give you a whole list of clinics that you can sort of pick from.
SASHA JEFFERSON: Maybe you want to do a peds rotation. Maybe you want to try to set something up with the Department of Ed and work in a school.
YUVAL YAARI: I couldn't be more excited and more happy about the affiliation I got. I feel like it fits me perfectly.
ASHLEY HOUCK: My final affiliation-- I will be working with an outpatient clinic and Broadway shows that work with dancers, singers, performers.
DR. HORBACEWICZ: We'll have clinic owners call us and say, I had your student. I had a student from another school. I'm blown away by the Touro students. I can't believe how well-prepared they are when they come to the clinic.
We have two campuses. So we have a campus in the city. And we have a campus on Long Island. So you really could decide if you wanted sort of an urban city setting in the middle of New York City in the middle of everything or if you wanted to be on Long Island, more suburban.
When they are finished spending three years here, they are going to be the most well-prepared physical therapists with excellent manual skills and a passion for the profession.
SASHA JEFFERSON: To anybody who's considering Touro College, I would tell them that you should definitely come. You should definitely visit because it's an amazing school.
YUVAL YAARI: I would not expect myself getting anything better anywhere else.
We'll have clinic owners call us and say, 'I'm blown away by the Touro students. I can't believe how well-prepared they are when they come to the clinic.' After spending three years here, our students become the most well-prepared physical therapists with excellent manual skills and a passion for the profession. — Dr. Horbacewicz, PT, MA, PhD, Chair, Doctor of Physical Therapy Program
What Sets Us Apart
Prepared Graduates
Our CAPTE accredited, clinically-oriented, integrated curriculum provides a strong foundation in the basic and clinical sciences before progressing to more complex integration and application. All DPT candidates also complete a research project and 38 weeks of clinical experiences.
Expert Faculty
Our faculty includes specialists in neurology, orthopedics, pediatrics, and cardiopulmonary physical therapy, all of whom bring the "clinic to the classroom" every day. Because of our small class sizes, your professors can offer you one-on-one guidance, advising, and mentoring as you cultivate the critical thinking, professionalism, and evidence-based practice skills that set Touro graduates apart.
Diverse Clinical Experiences
Our students complete four full-time clinical experiences in diverse settings in the tri-state area and nationwide, including nationally renowned hospitals, nursing facilities, private practices, rehabilitation centers, schools, and home care. You will be ready to practice in whichever setting you choose, and to stay current in an ever-changing health care environment.
2 Locations in New York
The DPT program is offered in two locations. Our New York City location is in Times Square, the heart of Manhattan. The Central Islip campus is located on the South Shore of Long Island, not far from beaches and the ferry to Fire Island. Classes on Long Island are held Monday through Friday, while classes in Manhattan are Sunday through Thursday. Both campuses share the same curriculum, and faculty from both campuses collaborate to design the ultimate teaching and learning experience.
By the Numbers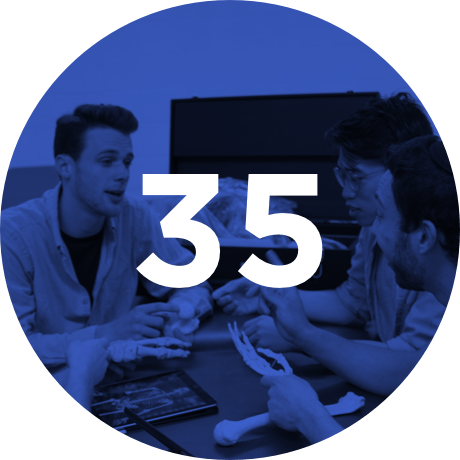 Small Class Size – 35 Students Per Cohort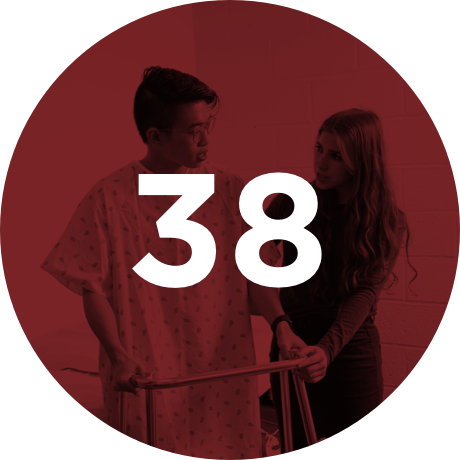 38 Weeks of Full-time Clinical Experiences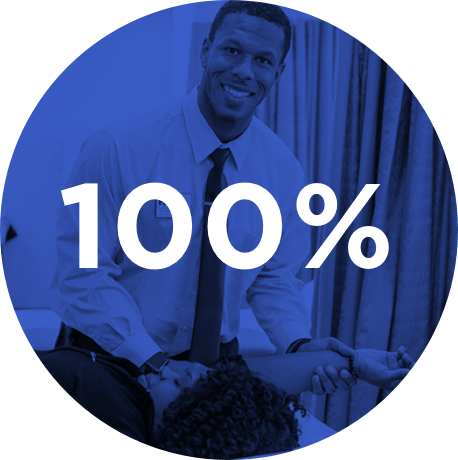 100% Employment Rate
What Physical Therapists Do
Physical therapists are health specialists who help improve mobility and pain management. Patients can come to a physical therapist with issues ranging from a sports injury, a chronic condition that impairs movement, or post-surgery recovery. Anyone who needs physical therapy can make an appointment with a PT without physician referral. A PT may also receive referrals from physicians and other health professionals and consult with them regarding a patient's condition. This interprofessional collaboration ensures physical therapy practice is integrated within the modern health care system.
A physical therapist uses many specialized techniques to help a patient address their condition, ease pain or recover mobility. A PT might use hands-on therapy, therapeutic exercises, stretching, or specific equipment to assist a patient's recovery. A physical therapist creates a specific care plan for each individual patient. Physical therapists can work with patients and clients across the lifespan, and all of the body systems, or specialize in a chosen area like geriatrics, sports therapy, or neurology.
Physical Therapist Salary
The average annual salary for a physical therapist is around $90k. In the New York City metro area, PTs earned around $97,000 per year. With more experience, PTs can earn upwards of $100k (U.S. News & World Report).
Looking to Apply to Our DPT Program?
What we're looking for:
Demonstrated success in undergraduate coursework and a strong background in the sciences. Applicants need to submit GRE scores and documented volunteer hours. A bachelor's degree is not required, but specific pre-requisite coursework is.
When and where to apply:
Apply early! We admit students on a rolling basis, so you want to apply before the cohort fills up. All applications are through PTCAS.
Visit our DPT Admissions page for more info.
CAPTE Accreditation
The Doctor of Physical Therapy program at Touro University is accredited by the Commission on Accreditation in Physical Therapy Education (CAPTE).
Commission on Accreditation in Physical Therapy Education (CAPTE)
3030 Potomac Ave., Suite 100
Alexandria, Virginia 22305-3085
phone: (703) 706-3245
email: accreditation@apta.org
website: www.capteonline.org
If you need to contact the program/institution directly, please call (631) 665-1600 x 6211 or email dpt@touro.edu.
CAPTE only evaluates entry-level DPT programs for accreditation. The orthopedic residency programs offered by Touro College are evaluated for accreditation by the American Board of Physical Therapy Residency and Fellowship Education.
Payscale.com Ranking