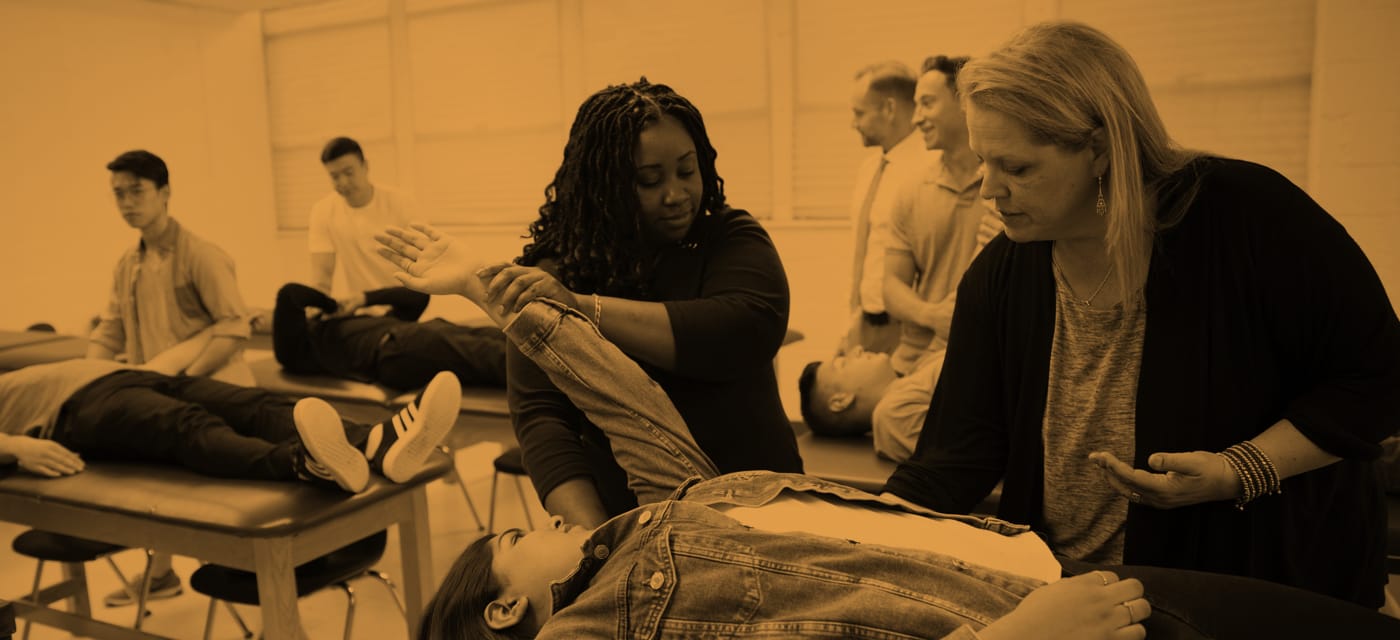 Doctor of Physical Therapy
Admission Requirements
The Doctor of Physical Therapy program is a dual degree program that leads to a BS in Health Sciences and DPT degree. Though a bachelor's degree is not required, most of our students have earned a bachelor's degree prior to entry.
We admit students on a rolling basis, so applicants are encouraged to apply early. All students start the program in the fall semester.
The application deadline is May 1.
Classes start in the fall.
All applications are made through the Physical Therapy Centralized Application Service (PTCAS), but be sure to review our technical standards, and the requirements below, before applying.
Requirements
Minimum 3.0 GPA
A minimum GPA of 3.0 for all coursework is required.
Successful completion of all prerequisite courses
We are a dual degree - BS/DPT - program, so though most of our students already have their bachelor's, you do not need it to apply. All applicants - whether you have your bachelor's or not - need to have satisfactorily completed 90 transferable (grade of "C" or better) credits from an accredited college or university or its equivalent is required for admission to the program. These must include 15 credits taken to satisfy a major or minor (of which 9 credits must be upper-division courses), 15 elective credits, and at least 60 credits in the Liberal Arts and Sciences. Specific course prerequisites include:
8 credits of Biology*
8 credits of Physics*
8 credits of Chemistry*
6 credits of Anatomy & Physiology
6 credits of Psychology including General Psychology
6 credits of English Composition, or Composition and Literature
3 credits of Mathematics (pre-calculus level)
3 credits of Statistics
42 additional credits, of which at least 12 must be in the liberal arts.
*These courses must include a laboratory and be designed for science majors. Science courses designed for liberal arts or nursing majors are not acceptable.
GRE scores
Graduate Record Exam (GRE) scores are required.
Volunteer hours
50 documented hours of volunteer/work service in two or more different physical therapy settings.
Letters of recommendation
Two letters of recommendation: one from a licensed physical therapist; the other from a student's former college professor.
Transcripts
Official transcripts of all college work must be submitted through PTCAS.
TOEFL or IELTS Examination (if applicable)
Students whose native language is not English, or who did not graduate from a college in the USA or other English-speaking countries, must also demonstrate proficiency in English through satisfactory performance on the TOEFL examination or IELTS examination:
Test of English as a Foreign Language (TOEFL) – minimum score of either 550 (paper-based), 213 (computer-based), or 80 (Internet-based)
International English Language Testing System (IELTS) – minimum score of 6
Pearson's Test of English – Academic (PTE) – minimum score of 58
Note: the TOEFL exam does not substitute for the SAT, ACT, or GRE requirement, nor does it fulfill the 6-credit English prerequisite requirement. Foreign credentials must be evaluated by an approved agency. International Student Services can help.
Selection Process
Based on the above criteria, selected applicants are invited to interview virtually. Admission to the DPT program is highly competitive and meeting minimum requirements does not guarantee admission. Decisions on admission are made by a committee of the faculty based on an assessment of the applicant's virtual interview, past academic performance, standardized test scores, references, essay, and commitment to the profession of physical therapy.
External Scholarships
We've gathered some external scholarships you can explore, for your convenience. External scholarship opportunities are financial assistance programs that are offered by organizations outside of Touro University. For students who qualify, these scholarships are a great way to receive additional funding for education and can help alleviate student loan debt. There are many different types of external scholarships available to students, including those offered by private organizations, businesses, non-profits, and government agencies. All external scholarship inquiries and submissions should be addressed directly to the organization providing funding.
AAUW
AMBUCS
American Academy of Physical Therapy
APTA
APTA Minority Scholarship Fund
Daughters of the American Revolution
Hispanic Scholarship Fund
Indian Health Services
IOKDS
Korean American Scholarship Fund
New York Grace Legendre Endowment Fund
NYC Department of Education
OAS
Paul Ambrose Scholars Program
Physical Therapy Scholarships at Scholarship.com
Teach NYC – Jose. P Graduate Scholarship Program
VA Education Debt Reduction Program
Ready to Apply?
All application materials – including official GRE scores, transcripts, etc - must be submitted directly to PTCAS. For further information regarding application deadlines and procedures, please visit www.ptcas.org
Contact Us
Office of Admissions
Touro College School of Health Sciences
225 Eastview Drive
Central Islip, New York 11722
P: 866-TOURO-4-U
F: 646-495-3880
enrollhealth@touro.edu