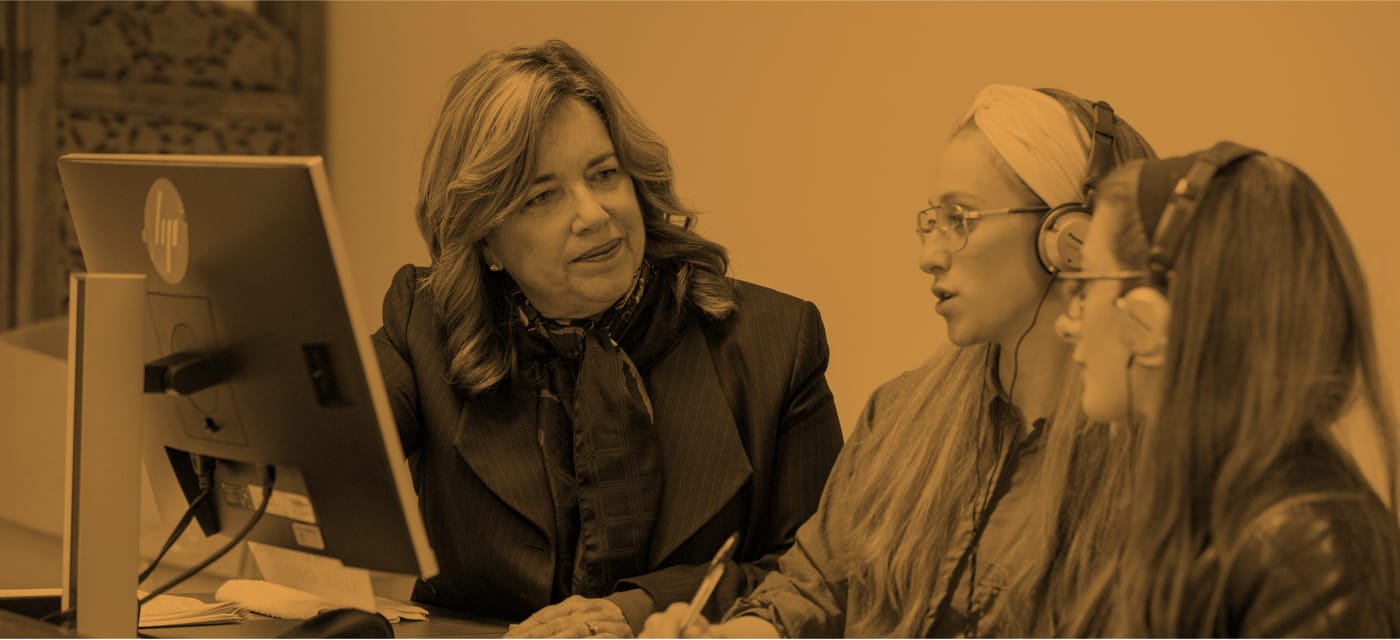 Speech Language Pathology
Master's in Speech-Language Pathology
Speech-language pathologists help people of all ages and backgrounds with various speech, language, swallowing, and hearing disorders to communicate more effectively. Whether a patient stutters or has a hearing impairment, a cleft palate or a developmental delay, the speech-language pathologist must be able to provide compassionate, competent care with cultural sensitivity.
With our rigorous academic curriculum and focus on experiential learning, the Speech-Language Pathology program at the School of Health Sciences prepares you to become highly skilled and knowledgeable health care providers, as well as adept researchers and academics. You'll find friends in your fellow students and support in our experienced faculty, all invested in your success.
Clinically, Professionally, and Ethically Trained
JACLYN ROSENBLUM, ALUMNA, SPEECH LANGUAGE PATHOLOGY PROGRAM: The program is based off of a team of faculty that are specialists, who are able to deliver an education that is extremely rare. And it's very significant in my life. In general, we were taught assessment and treatment of individuals and populations of a variety of communication disorders.

The program is something like nothing that I've ever experienced in my life. The atmosphere was warm. It was friendly. It was welcoming. It was inviting. There was never a day that I walked out of Touro not feeling like I was accomplished.

DR. STEVEN BLAUSTEIN, PH.D., ASSOCIATE PROFESSOR, SPEECH LANGUAGE PATHOLOGY PROGRAM: We are here to train students clinically, professionally, ethically to become speech-language pathologists and teach them the breadth and depth of knowledge they need to be successful.

YOCHEVED HOMNICK, SPEECH LANGUAGE PATHOLOGY STUDENT: The facilities are just gorgeous. The classrooms-- they're spacious, they're modern, they're comfortable, well-lit, and they're up-to-date in all of the technology. The clinic is gorgeous, and it really makes it a pleasure to see clients and to work in the clinic because you just know that anything you need is there. We have an audiology booth that's fully equipped, and all the rooms that we see clients in are fully equipped.

TAMAR LESSER, SPEECH LANGUAGE PATHOLOGY STUDENT: So at Touro, you are required to complete an internship and two externships. So the internship is in-house, in our clinic, where you work one-to-one with clients, and you're in charge of everything-- their goals, the methods that you will reach those goals, the lesson plans. And you really have to collaborate with your supervisor and other students. You get so much hands-on experience in one semester.

GLENNA WILLIAMS, SPEECH LANGUAGE PATHOLOGY STUDENT: There's a lot of opportunities out there in the field. I mean, once you come here, you will be able to direct your path. They will help you to choose what it is that you want to do. That's what the professors do here-- they prepare you for the career out there. They prepare you for the field.

GITTEL MARKOWITZ, ALUMNA, SPEECH LANGUAGE PATHOLOGY PROGRAM: So going through the program, my goal was always getting into the medical setting and working as a medical speech-language pathologist. And this program, knowing my career plans, obtained a clinical placement for me where I can grow and get those skills needed to be successful in a medical setting after graduation.

NAFTALI JAROSLAWICZ, SPEECH LANGUAGE PATHOLOGY STUDENT: I see Touro College as very cognizant of individual cultures and ethnic backgrounds. I feel comfortable [INAUDIBLE] that Touro College takes care of whatever my cultural needs may be. I see the other students also are-- as diverse group as we are, Touro College makes sure that every individual feels that their cultural and background needs are being met.

DR. IRINA VAYNSHTEYN, PH.D., ASSISTANT PROFESSOR, SPEECH LANGUAGE PATHOLOGY PROGRAM: We also have a unique research opportunity. We are teaching the students right from the start about the research methods, about research ideas. We're asking them, as part of the coursework, to choose a topic of their interest and ask them to develop that topic into a research idea, which leads them to the formulating of a research question, which in turn leads them to the design of an experiment based on that research question.

HINDY LUBINSKY, MS, CHAIR AND DIRECTOR, SPEECH LANGUAGE PATHOLOGY PROGRAM: In addition to getting your master's degree, you also get many other things. You're eligible for New York State license after certification, and TSSLD, which are all very, very important in getting jobs today. According to our accrediting agency, ASHA, there will be an 18% increase in need over the next few years. The prospect of the field and jobs is excellent.

KIMBERLY PERRONE, SPEECH LANGUAGE PATHOLOGY STUDENT: I would tell a student that's looking to come to Touro to definitely do it. There's nowhere else where you're going to be able to get this experience here. The staff is always willing to help you. Their doors are always open. And there's so many life-changing experiences that will help you with your future career.
Professor and Mentor
You will develop close relationships with a faculty of accomplished researchers and practitioners. Your professors will mentor you closely as you learn the record-keeping and required reporting—first in the classroom and then in the clinical environment.
Research
You will learn how to read, understand and conduct research as an important part of our evidence-based curriculum.
Speech & Hearing Center
In addition to a carefully supervised clinical experience, you'll start your clinical practice at our in-house, state-of-the-art, speech and audiology clinic.
Success
You will be well-prepared to pass the Praxis exam, find a job and practice. Upon graduation, our students have both the education and the experience to begin successful careers as speech-language pathologists, with nearly 100% of our graduates finding employment shortly after graduation.
ASHA Accreditation
The Master of Science (M.S.) education program in Speech-Language Pathology (residential) at Touro University is accredited by the Council on Academic Accreditation in Audiology and Speech-Language Pathology of the American Speech-Language-Hearing Association, 2200 Research Boulevard #310, Rockville, MD 20850-3289, or (800) 498-2071 or (301) 296-5700.