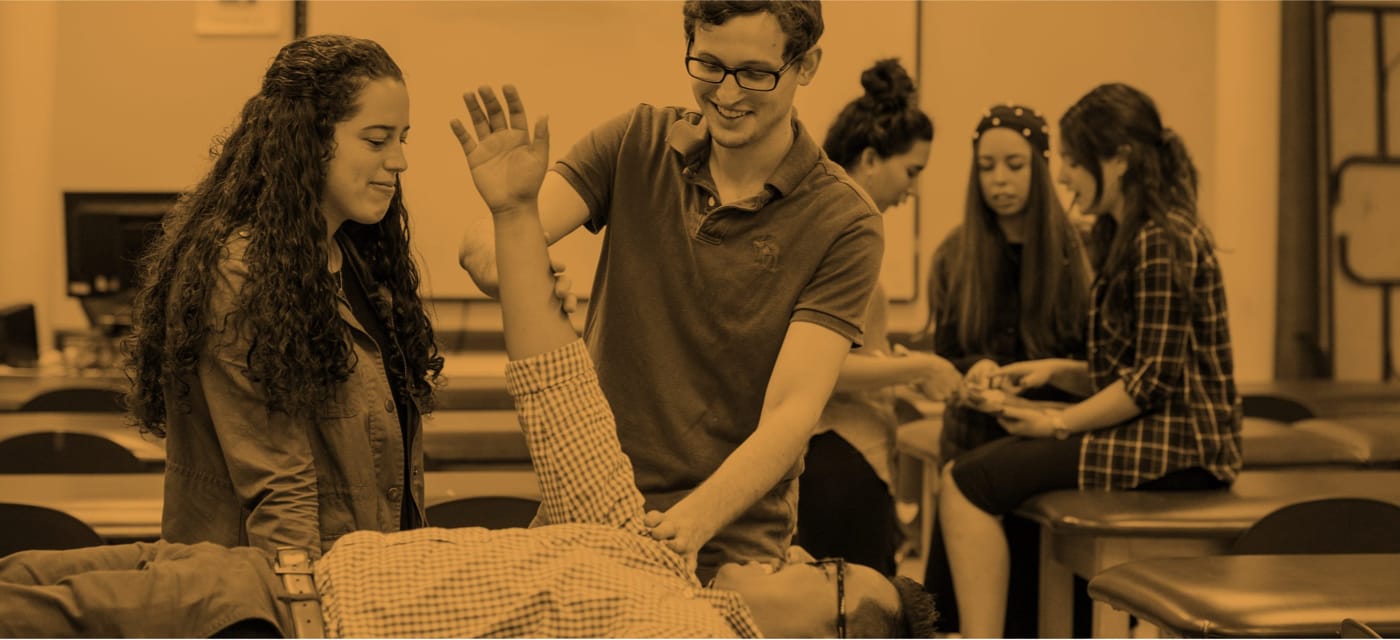 Occupational Therapy
Occupational Therapy Program
Occupational therapy (OT) helps people of all ages develop the skills needed to manage everyday life activities and support participation in their roles in home, school, workplace, community, and other settings. Occupational therapists work in a variety of settings, including hospitals, schools, clinics, skilled nursing facilities, community centers, and private homes. As an OT, you may help a developmentally disabled child build the skills she needs to copy assignments from a classroom whiteboard. Or, you might suggest modifications to the home of a senior adult to prevent falls, or coach a teenager recovering from a head injury through the transition between school and independent living. The work is challenging and extremely rewarding.
Want to help others help themselves? Once you complete our three-year program, you'll earn a Bachelor of Science in Health Sciences and a Master of Science in Occupational Therapy and you will be prepared to pass the national board exams, start your career, and make an impact.
Ready to apply?
Quality Education, Warm Community, Vast Opportunities
SHIFRA LEISER, OT.D., ASSISTANT PROFESSOR, OCCUPATIONAL THERAPY PROGRAM: Well, our program, Touro's Occupational Therapy program, really strives to provide quality education. Not only in the classroom where our classes are taught by experts in the field of occupational therapy, but in addition to that, we do work very hard to give our students just a multitude of clinical experiences in a wide array of settings with diverse populations. So they're not only getting theoretical or foundational knowledge, but the clinical application piece is strong and important to us as well.

SHANEL SINGH, OCCUPATIONAL THERAPY STUDENT: Something that distinguishes Touro from other schools, and one of the reasons why I applied here was that classes and fieldwork experiences at Touro are established in a sequenced manner. So the students get to apply the theories and interventions that we learn while things are still fresh in our mind. And I think this is one of Touro's greatest qualities.

SEAN GETTY, MS, OTR/L, ALUMNI, ADJUNCT PROFESSOR, OCCUPATIONAL THERAPY PROGRAM: Coming from my prerequisite work was at a large institution. And what attracted me to Touro was the small class sizes while still having the benefit of a much larger university system. Resources that we would need as a student that would facilitate things like conducting research, which was important to me to do while I was here.

STEPHANIE J. DAPICE WONG, DPT, OTR/L, PROGRAM DIRECTOR, OCCUPATIONAL THERAPY PROGRAM: Occupational therapy has a strong career outlook. And it's growing. It's anticipated to continue to grow. 100% of our graduates surveys indicate that they receive jobs within the first year of graduating.

So our graduates work in many places. Many of them work in schools, private practices, hospitals, and other community-based agencies. They can work with people throughout the lifespan in a wider range of practice.

JUSTINE GJELLAND, OCCUPATIONAL THERAPY STUDENT: Touro also offers other learning opportunities besides just in the classroom. For instance, they will send a bus of students up for lobby day so we can advocate for the occupational therapy field. It teaches us leadership skills. They really try to promote outside activities. So it's a good way to learn leadership and advocating for our field.

STEPHANIE J. DAPICE WONG, DPT, OTR/L, PROGRAM DIRECTOR, OCCUPATIONAL THERAPY PROGRAM: So those who are thinking about coming to Touro College really should know that they would be prepared to be skilled practitioners. They would have opportunities to learn with faculty who have wide ranges of experience. The Occupational Therapy program Touro College is a warm community and a supportive community. And the opportunities to learn within and also outside of the classroom are vast.