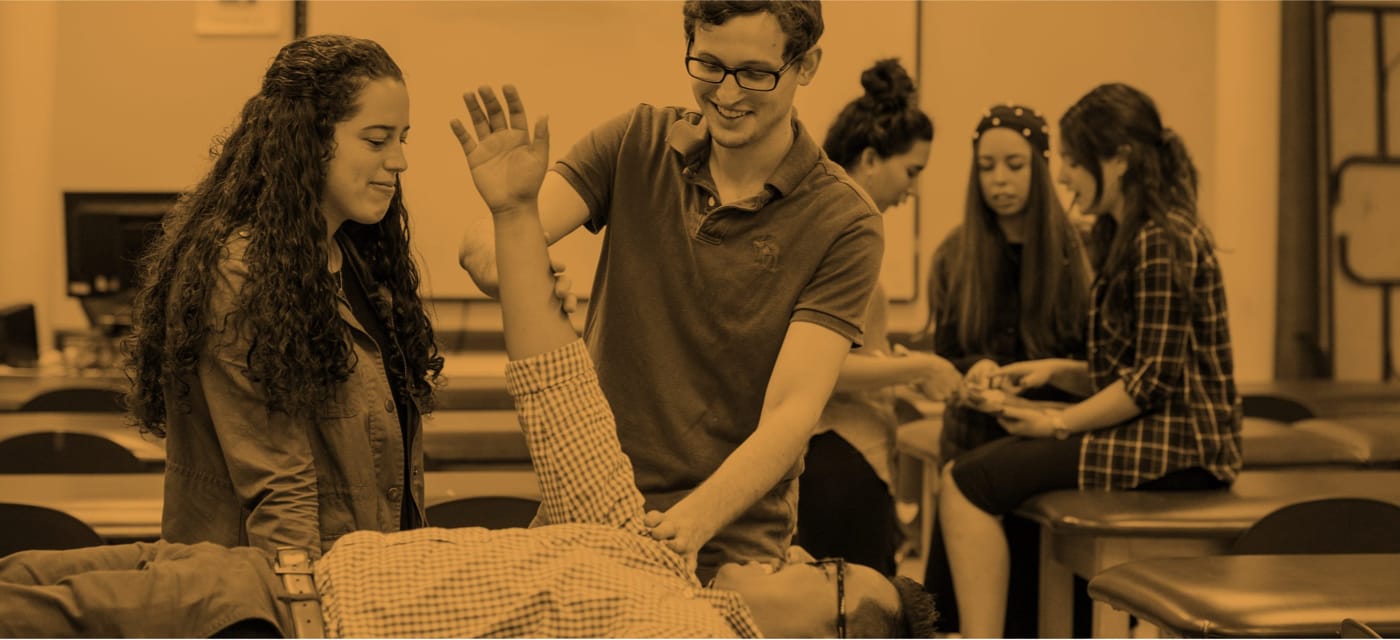 Occupational Therapy BS/MS
Admissions
Before you apply, carefully review the admissions requirements and information below, as well as the technical standards for becoming an occupational therapist.
Two Campuses & Two Start Dates. Choose What Works Best For You.
We have two beautiful campus locations. Our suburban campus is located in Central Islip, NY, and our urban campus is located in Times Square, Midtown Manhattan.
Fall Start
Fall classes begin in August. We review applications as they are received and the class is usually full by May. We encourage you to apply early!
Spring Start
Spring classes start in late January. We review applications as they are received and the class is usually full by November. We encourage you to apply early!
Most classes will be on the campus to which you apply and are accepted, but select classes or labs may be held on other Touro University campuses in the New York Metropolitan area.
All new students are expected to attend a full-day orientation, usually held the week before the first day of class.
Application Process
We accept applications through the Occupational Therapy Centralized Application Service (OTCAS). Please submit the completed application and all supporting documents through OTCAS.
Applicants are encouraged to apply early. Applications are reviewed as they are received. Classes are typically filled by May for a fall start and by November for a spring start.
OTCAS closes and does not accept applications for a period of a few weeks in June to early-July each year. Any applications that are not 100% complete, and verified by OTCAS, by the time OTCAS closes in June will need to be re-submitted when OTCAS re-opens. OTCAS DOES NOT AUTOMATICALLY TRANSFER INCOMPLETE APPLICATIONS. We encourage you to review the OTCAS re-applying FAQs. Please plan your application timeline accordingly.
Selection Process
The Occupational Therapy Admissions Committee evaluates applications, selects qualified candidates for an interview, and makes decisions regarding admission to the program based on a holistic, rigorous, and competitive review process. Meeting only minimum requirements cannot guarantee selection for an interview or admission to the program. Please make certain to apply well enough in advance to allow the Admissions Committee the time to give your application the review it deserves.
After the interview applicants will be informed in writing of the Occupational Therapy Admissions Committee's decision. If offered a place in the OT program, a deposit will be required from the applicant to confirm the intention to attend.
Admissions Requirements
Successful completion of all prerequisite courses
Satisfactory completion of 60 credits in liberal arts and sciences is required and must include specified prerequisites as listed below. Only coursework completed with a grade of "C" or better can be accepted as prerequisites. No more than 15 prerequisite credits in total, and no more than 4 credits in prerequisite laboratory sciences, may be outstanding at the time of application. All outstanding prerequisites must be scheduled to be completed before the first day of classes at the OT program location where the student will be attending.
SCIENCE PREREQUISITE REQUIREMENTS:
8 credits Anatomy and Physiology with lab
4 additional credits, with lab. We recommend you take Chemistry, Physics, or Biology.
ADDITIONAL PREREQUISITE REQUIREMENTS:
3 credits Sociology or Cultural Anthropology
6 credits English or Communication with a writing component
3 credits Statistics (NOT Business Statistics)
3 credits General Psychology or Introduction to Psychology
3 credits Developmental Psychology/Human Development. Course(s) should address development across the lifespan and may be taken in 1 or more courses.
3 credits Abnormal Psychology
Additional credits in liberal arts and sciences to total 60 prerequisite credits (We recommend no more than 12 credits per subject area. Examples of liberal arts credits subject areas might be history, English, etc.)
Students with previous occupational therapy experience or courses are not exempt from satisfying all admission requirements and completing all courses in the BS/MS degree program.
Preferred GPA
Applications will be reviewed holistically. A cumulative GPA of 3.0 or higher, with a minimum science GPA of 3.0 are preferred. Decisions regarding admission to the program are based on a rigorous and competitive review process. Meeting only minimum admission criteria cannot guarantee selection for an interview or admission to the program.
Official Scores
SAT, ACT, or GRE are optional.
Observation Hours
Documentation of completion of the equivalent of 40 hours of observation experience in OT practice completed within the last 3 years.
Observation hours should be completed in a setting under the supervision of a licensed occupational therapy practitioner and verified on the OT Observation Hours Form for an application to be eligible for review by the OT Admissions Committee. Observation experience with more than one type of setting or population is strongly recommended.
Applicants also have the option to complete up to 20 of the required 40 hours at ClinEdWeb Intro to OT: 20 Observation Hours and submit the Certificate of Completion.
Letters of Recommendation
Two written recommendations submitted through OTCAS. One written recommendation should be from a licensed occupational therapy practitioner and one from a professional and/or academic source.
Personal Statement
A personal statement must be submitted as instructed on the application through OTCAS.
TOEFL or IELTS Examination (if applicable)
Students whose native language is not English, or who did not graduate from a college in the USA or other English-speaking countries, must also demonstrate proficiency in English through satisfactory performance on the TOEFL examination or IELTS examination:
Test of English as a Foreign Language (TOEFL) – minimum score of either 550 (paper-based), 213 (computer-based), or 80 (Internet-based)
International English Language Testing System (IELTS) – minimum score of 6
Pearson's Test of English – Academic (PTE) – minimum score of 58
Note: the TOEFL exam does not substitute for the SAT, ACT, or GRE requirement, nor does it fulfill the 6-credit English prerequisite requirement. Foreign credentials must be evaluated by an approved agency. International Student Services can help.
Admission Appeals
Applicants who do not meet the minimum requirements for admission may petition the OT Admissions Committee for consideration of special circumstances. The petition must be made in writing at the time of application and should be sent to the School of Health Sciences Office of Admissions. It must clearly explain extenuating circumstances that have prevented the applicant from meeting the requirements and describe elements of the applicant's background that would indicate the potential for success in the program. Admission decisions regarding students who have not met established admission requirements are based on the student's petition, application, interview and other supporting documents required as part of the application process.
For Information, Contact:
Office of Admissions - OT Program
School of Health Sciences
225 Eastview Drive
Central Islip, N.Y. 11722
(866) TOURO-4-U
enrollhealth@touro.edu