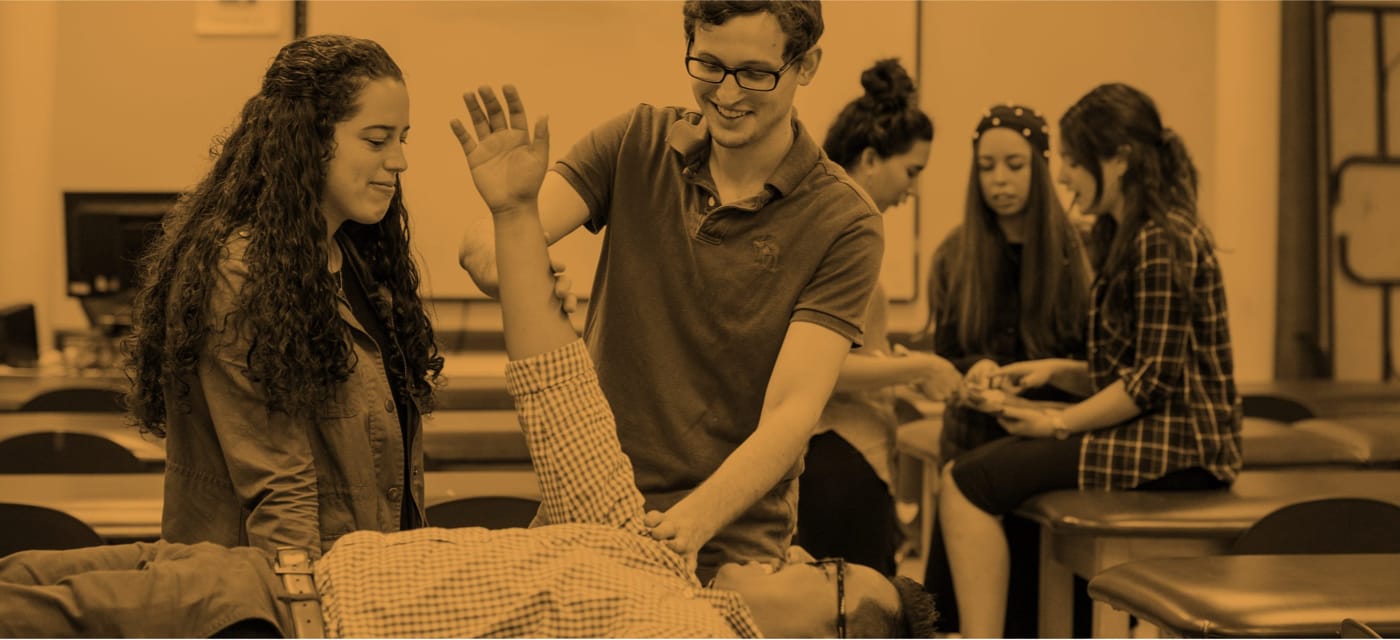 Occupational Therapy BS/MS
A Well-Rounded OT Education. Ready for Your OT Career
Our comprehensive OT program combines a strong didactic foundation, valuable clinical experience, and rewarding fieldwork and community service opportunities. You'll be well prepared to pass the national board exams and start your career.
You don't need a degree to get started. If you have 60 undergraduate credits that meet our requirements, you're ready to apply! You'll finish the program with both your MSOT and your bachelor's, as well as the option to earn a doctorate over the course of your first year practicing as an OT. Learn more about the application process on our Admissions page.
What Do Occupational Therapists Do?
Occupational therapy (OT) helps people of all ages manage everyday activities and better support participation in their roles at home, the workplace, and other settings. Becoming an OT allows you to help others help themselves, and make a real impact on your patients' daily lives.
Occupational therapists work with people of all ages in a variety of settings, including hospitals, schools, clinics, skilled nursing facilities, community centers, and private homes. An occupational therapist addresses a person's challenges performing daily activities. When an OT addresses challenges, they'll assess how their injury, disability or situation affects their life on a daily basis, and provide therapy or make recommendations that can be taken to make life easier. Their focus is on prevention, long-term health and ensuring the people they work with can function to their highest capacity in all of their life situations.
Examples of Occupational Therapy in Practice
There are many examples of the challenging and extremely rewarding work of an occupational therapist. Here are just a few:
Suggest modifications to a senior adult's home to prevent falls, such as rearranging furniture to create easy walking paths, and assess the need for assistive devices like reachers and shower chairs
Help a child with a disability build the skills they need to succeed at school, such as improving their motor skills so they can take notes during class
Assist a child with early intervention services to help them build developmental skills, such as using building blocks as a fine motor tool to help with bilateral coordination and grasping skills
Coach a teenager recovering from a head injury through the transition between school and independent living
Help a patient with a disability or an elderly patient improve simple motor skills, like holding a fork, buttoning a shirt, or opening a jar
Earn Your BS, MS, and OTD in Just 6 Years
Earn your MSOT at Touro and apply to enter the Doctorate of Occupational Therapy program. Our program allows you to apply all of the credits earned in your last semester in the BS/MS program to your OTD degree. Instead of the usual 16 months in the OTD program, you'll be able to complete it in just one year. Which means if you enter our BS/MS program with 60 credits (two years of undergraduate coursework), you can complete your BS, MS, and OTD in just six years.
If you're interested in program development in the community, taking on leadership roles, or teaching and conducting research in academia, a doctorate degree in the field is a must. An OTD will also better inform your clinical practice and help you understand how the OT profession is evolving within our healthcare system. If you want to prepare for your future academic journey, learn more by visiting our OTD program page.
Expert Faculty
Our faculty includes accomplished practitioners and researchers. We keep classes small to ensure you get the individual support you need from professors.
Two Locations in NY
We offer classes at the Long Island and Manhattan campuses so you can find a location that works best for you. You can begin classes in the fall or spring semester.
Service and Skills
All students in the BSHS/MSOT are prepared to work with people of all ages and a variety of populations and will have vast opportunities. Students participate in full-time fieldwork experiences and fulfill a community service requirement. By working with diverse populations, students develop a passion for service, and compassion for all.
Two Degrees in 3 Years
Our graduate program is unique — you can enroll with or without a degree, and earn both your bachelor's and master's with us. This lets you save time and enter the workforce sooner.
Ready to apply?
What is the pre-requisite coursework?
We require a minimum of 60 credits of pre-requisite coursework, but you can apply when 45 are completed and 15 credits (4 or less credits in prerequisite laboratory sciences) are in progress.
NBCOT Certification Exam
Graduates of our program are eligible to sit for the National Board for Certification in Occupational Therapy (NBCOT) examination to receive OTR® certification and become certified occupational therapists.
Accredited
The Touro College School of Health Sciences Occupational Therapy degree program is registered with the New York State Education Department and accredited by the Accreditation Council for Occupational Therapy Education (ACOTE) of the American Occupational Therapy Association (AOTA). ACOTE accredited occupational therapy programs satisfy the states' educational requirements in all states, the District of Columbia, and Puerto Rico.
Accreditation Council for Occupational Therapy Education
6116 Executive Boulevard, Suite 200
North Bethesda, MD 20852-4929
P: (301) 652-2682
www.acoteonline.org
Students graduating from an ACOTE accredited occupational therapy educational program are eligible to take the National Board for Certification in Occupational Therapy (NBCOT) certification exam and apply for licensure in all states, the District of Columbia, and Puerto Rico. For more information regarding state qualifications and licensure requirements, please refer to the AOTA State Licensure webpage.
OT Students Share Why They Love Our Program
SHIFRA LEISER, OT.D., ASSISTANT PROFESSOR, OCCUPATIONAL THERAPY PROGRAM: Well, our program, Touro's Occupational Therapy program, really strives to provide quality education. Not only in the classroom where our classes are taught by experts in the field of occupational therapy, but in addition to that, we do work very hard to give our students just a multitude of clinical experiences in a wide array of settings with diverse populations. So they're not only getting theoretical or foundational knowledge, but the clinical application piece is strong and important to us as well.

SHANEL SINGH, OCCUPATIONAL THERAPY STUDENT: Something that distinguishes Touro from other schools, and one of the reasons why I applied here was that classes and fieldwork experiences at Touro are established in a sequenced manner. So the students get to apply the theories and interventions that we learn while things are still fresh in our mind. And I think this is one of Touro's greatest qualities.

SEAN GETTY, MS, OTR/L, ALUMNI, ADJUNCT PROFESSOR, OCCUPATIONAL THERAPY PROGRAM: Coming from my prerequisite work was at a large institution. And what attracted me to Touro was the small class sizes while still having the benefit of a much larger university system. Resources that we would need as a student that would facilitate things like conducting research, which was important to me to do while I was here.

STEPHANIE J. DAPICE WONG, DPT, OTR/L, PROGRAM DIRECTOR, OCCUPATIONAL THERAPY PROGRAM: Occupational therapy has a strong career outlook. And it's growing. It's anticipated to continue to grow. 100% of our graduates surveys indicate that they receive jobs within the first year of graduating.

So our graduates work in many places. Many of them work in schools, private practices, hospitals, and other community-based agencies. They can work with people throughout the lifespan in a wider range of practice.

JUSTINE GJELLAND, OCCUPATIONAL THERAPY STUDENT: Touro also offers other learning opportunities besides just in the classroom. For instance, they will send a bus of students up for lobby day so we can advocate for the occupational therapy field. It teaches us leadership skills. They really try to promote outside activities. So it's a good way to learn leadership and advocating for our field.

STEPHANIE J. DAPICE WONG, DPT, OTR/L, PROGRAM DIRECTOR, OCCUPATIONAL THERAPY PROGRAM: So those who are thinking about coming to Touro College really should know that they would be prepared to be skilled practitioners. They would have opportunities to learn with faculty who have wide ranges of experience. The Occupational Therapy program Touro College is a warm community and a supportive community. And the opportunities to learn within and also outside of the classroom are vast.